With the 2019 regular season rapidly approaching, we are beginning to see a clearer picture of how the teams stack up against each other. This week, we will look at teams 21-11, as we preview the main teams set to fight for the final few playoff spots. Last weeks article on the bottom 11 teams can be found here.
Tier 4: Sleepers
#21 Buffalo Bills | 2018 Record: 6-10
Key Additions: DT Ed Oliver, C Mitch Morse, WR Cole Beasley
Notable Losses: DT Kyle Williams, G John Miller, TE Charles Clay
Players to Watch: QB Josh Allen, S Micah Hyde, CB Tre'Davious White
Josh Allen and the Buffalo Bills were a pleasant surprise in 2018. After a horrendous 47-3 loss against the Baltimore Ravens week 1, the Bills turned the offense over to rookie QB Josh Allen who battled his way to a 5-6 record as starter, despite missing a stretch of games with an elbow injury. Allen carried a lackluster offense with his cannon arm and dynamic running ability as he led the Bills in rushing and the NFL in rushing touchdowns with 8. While Allen's play was impressive, the core of the Bills team was their dominant secondary, which ranked first in passing yards allowed.
This off-season, GM Brandon Beane brought in several pieces to help Josh Allen, specifically at receiver and the offensive line. The additions of receiver John Brown and Cole Beasley gives the Bills a speedy deep threat and a reliable slot option that should play right into Allen's skill set. The offensive line also saw significant improvements, with the signings of C Mitch Morse and T Ty Neskhe.
With the majority of their defense returning and improved offensive weapons, the Bills are poised to challenge for a playoff spot in 2019. A favorable start against the Jets, Giants, and Bengals should help as well.
#20. Jacksonville Jaguars | 2018 Record: 5-11
Key Additions: QB Nick Foles, LB Josh Allen, WR Chris Conley
Notable Losses: QB Blake Bortles, RB Carlos Hyde, S Tashaun Gipson
Players to Watch: QB Nick Foles, RB Leonard Fournette, CB Jalen Ramsey
The Jacksonville Jaguars were a huge let down last year. After making it to the AFC Championship game the year before, expectations were high for the Jags, but the lack of a consistent offense finally caught up to them as they labored to a 5-11 record last year. Bortles and the offense had a hard time finding the end-zone, as the Jaguars were only able to score a league low 22 offensive touchdowns all year.
This year, the Jaguars will have former Super Bowl MVP Nick Foles under center, after handing him a hefty 4-year $88 million dollar deal this off-season with hopes that he will rejuvenate their lackluster offense. One player that will be excited withthe arrival of Foles is RB Leonard Fournette, who as a result of a non-existent passing attack was unable to find much running room last season averaging just 3.3 yards per carry.
The Jaguars defense also saw an upgrade this off-season with the addition of 2018 Chuck Bednarik (College Defensive Player of the Year) winner, Josh Allen who should help return the Jags return to their 2017 Sacksonville form. If Nick Foles is able to continue his stunning play, the Jaguars will definitely be a team to look out for in 2019.
#19 San Francisco 49ers | 2018 Record: 4-12
Key Additions: RB Tevin Coleman, DE Nick Bosa, LB Kwon Alexander
Notable Losses: RB Alfred Morris, WR Pierre Garcon, P Bradley Pinion
Players to Watch: QB Jimmy Garoppolo, TE George Kittle, DE Nick Bosa
The San Francisco 49ers entered 2018 with a lot of promise, but had their season derailed by bad injuries to key starters Jimmy Garoppolo and Jerick McKinnon. It wasn't all bad though, as it led to the emergence of George Kittle, who enjoyed a record breaking sophomore season at TE. Running backs Matt Brieda and Rasheem Mostert also flashed some big-play ability rushing behind one the most dominant offensive lines in the NFL.
With a promising offense in place, the Niners spent much of the off-season addressing their meek defense. Their pass rush saw the biggest improvement with the additions of DEs Dee Ford and Nick Bosa. While the signing of LB Kwon Alexander will help steady their run defense.
The return of QB Jimmy Garoppolo and an improved defense should help the 49ers bounce back in 2019. However it remains to be seen whether they can contend in a tough NFC West.
#18 New York Jets | 2018 Record: 4-12
Key Additions: RB Le'Veon Bell, LB C.J. Mosley, DE Quinnen Williams
Notable Losses: QB Josh McCown, RB Isaiah Crowell, CB Morris Claiborne
Players to Watch: QB Sam Darnold, RB Le'Veon Bell, LB CJ Mosley
The New York Jets had quite the eventful off-season. After a disappointing 4-12 season, the Jets fired head coach Todd Bowles, but stood by general manager Mike Maccagan to oversee free agency and the search Bowles' replacement. After an extensive search, Maccagan and the Jets ultimately decided on offensive guru Adam Gase. With the Head Coach in place and plenty of cap space, Maccagan headed into the off-season intent on making some big moves. He was immediately successful as he was able to sign star RB Le'Veon Bell and All-Pro LB CJ Mosley within the first few days. And a couple months later in the draft, Maccagan selected arguably the most talented player in DE Quinnen Williams. Most people saw Maccagan's off-season as widely successful. Which is why it was so surprising when he was fired three weeks after the draft, due to a disagreement with incoming head coach Adam Gase over the signing of Le'Veon Bell.
Drama aside, the Jets did add a bunch of talent this off-season. Bell who held out the entire 2018 season should come in with fresh legs and be a major asset to the Jets as both a rusher and a receiver. While LB CJ Mosley gives the Jets a dominant run stopper in the middle of the field. The pass rush also saw improvements with the additions of SEC stars Quinnen Williams and Jachai Polite in the draft.
With a promising young QB in Sam Darnold and the influx of talent in the off-season, the Jets have quickly become one of the most intriguing teams to watch for in 2019. And with one of the easiest strength of schedules in the league, they figure to be in the mix for at least a wild card spot.
#17 Seattle Seahawks | 2018 Record: 10-6
Key Additions: G Mike Iupati, DE Ziggy Ansah, DE L.J. Collier
Notable Losses: WR Doug Baldwin, DE Frank Clark, S Earl Thomas
Players to Watch: QB Russell Wilson, LB Bobby Wagner, CB Shaq Griffin
The departures of safeties Earl Thomas and Kam Chancellor this off-season officially marked the end of Seattle's imposing Legion of Boom secondary. Without much of the dominant defense they once had, the Seahawks turned to Russell Wilson and their grinding rush attack to win games in 2018. Seattle's RB committee of Chris Carson, Mike Davis, and Rashaad Penny ran for a league leading 2,560 yards at a blistering 4.8 yards per carry last season. Russell Wilson also proved himself to be one of the premier play-makers of the league last year, when he managed to throw 35 touchdowns behind one of the poorest offensive lines in the league. As a result Wilson was rewarded with a massive 4-year $140 million contract that made him the highest paid player in the NFL.
With the end of the Legion of Boom, the Seahawks spent much of the off-season retooling their defense. After spending big on Russell Wilson's new deal, GM John Schneider looked primarily towards the draft for reinforcements, where he selected DE L.J. Collier, S Marquise Blair, and LB Cody Barton in the first three rounds.
The Seahawks defense isn't what they use to be, but Russell Wilson and their impressive rushing attack should keep them competitive in most games.
Tier 3: Contenders
#16 Carolina Panthers | 2018 Record: 7-9
Key Additions: C Matt Paradis, DE Brian Burns, DE Bruce Irvin
Notable Losses: C Ryan Kalil, WR Devin Funchess, LB Thomas Davis
Players to Watch: QB Cam Newton, RB Christian McCaffrey, LB Luke Kuechly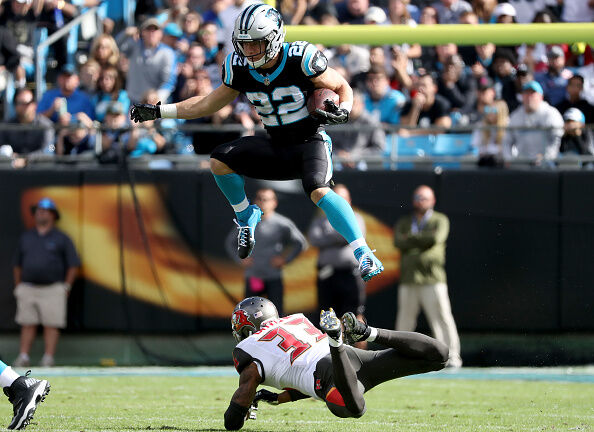 The Carolina Panthers relied heavily on two players last season, QB Cam Newton and RB Christian McCaffrey. When Newton was healthy, the Panthers looked great and got off to a hot 6-2 start to begin the season. But when Cam Newton aggravated his surgically repaired shoulder in week 9, he and the Panthers season quickly saw a dramatic downturn. The other main staple in the Carolina offense was Christian McCaffrey, who had an extraordinary year for the Panthers leading them in both rushing and receiving.
With the health of Cam Newton paramount, the Panthers made improving their offensive line a priority this off-season. And they did just that by signing Matt Paradis, who has consistently graded out to be one of the best centers in the league the past three years. Along with Paradis, the Panthers drafted all-SEC tackle Greg Little in the second round to further bolster their offensive line. In addition to their o-line, the Panthers also made strides to improve their defensive line with the signings of DE Bruce Irvin and DT Gerald McCoy.
The Panthers are well positioned to make another big play-off push as we should see Cam Newton and the Carolina offense thrive under the new offensive line.
#15 Dallas Cowboys | 2018 Record: 9-7
Key Additions: WR Randall Cobb, TE Jason Witten, DE Robert Quinn
Notable Losses: WR Cole Beasley, DT David Irving, DE Randy Gregory
Players to Watch: QB Dak Prescott, RB Ezekiel Elliot, WR Amari Cooper
The Dallas Cowboys face a lot of uncertainty going into the 2019 regular season as they are currently in the midst of three very important contract negotiations with star players Dak Prescott, Ezekiel Elliot, and Amari Cooper. The most pressing situation is clearly with RB Ezekiel Elliot as he has been adamant that he will not play this year without a new contract. While neither Cooper or Prescott have made any indication of holding out, they are both entering the final years of their deals and are key pieces to the Cowboy's future success.
This off-season, the Cowboys have brought in slot receiver Randall Cobb to replace the outgoing Cole Beasley and have signed RB Alfred Morris as an insurance policy should contract negotiations with Elliot not work out. Another familiar face for the Cowboys will be long-time tight end Jason Witten who ended his brief 1 year retirement from football to return to the team. The Cowboys will also get a big boost from the return of All-Pro center Travis Frederick who will strengthen their already star studded offensive line.
The Cowboys have all of the pieces in place for another deep play-off run with a strong defense and a formidable offensive line. However, they're going to need Elliot to play if they want to be serious contenders.
#14 Minnesota Vikings | 2018 Record: 8-7-1
Key Additions: C Garrett Bradbury, G Josh Kline, DT Shamar Stephen
Notable Losses: RB Latavius Murray, DT Sheldon Richardson, S Andrew Sendejo
Players to Watch: QB Kirk Cousins, WR Adam Thielen, LB Anthony Barr
The Minnesota Vikings disappointingly missed the playoffs last season after losing a crucial win-or-go home game against the Bears in week 17. Kirk Cousin's poor performance took most of the blame for the loss, but an inconsistent running game and poor pass protection have the Vikings' main problems all season. As Viking running backs combined for only 1,493 yards, ranking third to last in the league.
GM Rick Spielman made improving the offensive line a priority this off-season, signing veteran guard Josh Kline and selecting C Garrett Bradbury in the first round of the draft. However, Spielman's most important move this off-season was convincing four-time Pro Bowl OLB Anthony Barr to re-sign with the Vikings after reportedly agreeing to join the New York Jets. Having already lost key defensive pieces DT Sheldon Richardson, S Andrew Sendejo, and S George Iloka, keeping Barr was essential in maintaining the Vikings' stout defense.
The Vikings suffered some notable losses in their secondary this off-season, so they're defense might struggle. But they addressed most of their offensive line problems, so it'll be up to Kirk Cousins to deliver this year.
#13 Atlanta Falcons | 2018 Record: 7-9
Key Additions: G Chris Lindstrom, G James Carpenter, DE Adrian Clayborn
Notable Losses: RB Tevin Coleman, DE Bruce Irvin, CB Justin Bethel
Players to Watch: QB Matt Ryan, WR Julio Jones, DE Vic Beasley
The Atlanta Falcons were another team that failed to live up to expectations in 2018. A big reason for the Falcons' struggles last year was their injury ravaged defense. With key defensive starters S Keanu Neal, LB Deion Jones, DT Grady Jarrett, and S Ricardo Allen all missing significant time last season, the normally tough Falcons defense suffered and finished a disappointing 31st in defensive efficiency in 2018. Matt Ryan had another strong season as he was able to quickly find chemistry with rookie receiver Calvin Ridley who set a Falcons rookie record for most receiving touchdowns with 10.
Matt Ryan is set for an even better 2019 as the Falcons made some major offensive line upgrades this off-season. GM Thomas Dimitroff first signed a couple of veteran guards in James Carpenter and Jamon Brown. And than later fortified the line even more by drafting both G Chris Lindstrom and T Kaleb McGary in the first round.
With a number of defensive starters returning from injury and a much improved offensive line, the Falcons look to be close to returning to Super Bowl form.
#12 Green Bay Packers | 2018 Record: 6-9-1
Key Additions: DL Rashan Gary, LB Za'Darius Smith, S Adrian Amos
Notable Losses: WR Randall Cobb, DL Muhammad Wilkerson, LB Clay Matthews
Players to Watch: QB Aaron Rodgers, WR Davante Adams, DT Kenny Clark
Many will remember Aaron Rodger's heroic week 1 comeback against the Bears on Sunday Night Football last year after leaving the game earlier with a knee injury. Unfortunately that was the one highlight of what ended up to be a pretty miserable season for the Packers. Rodger's knee bothered him all year as he labored through what was his worst season in the league to date. Unrest from Rodgers also eventually led to the dismissal of long-time head coach Mike McCarthy, who apparently never got along with Rodgers to begin with. Replacing McCarthy will be former Titans offense coordinator and Sean McVay assistant, Matt LaFleur.
With LaFleur in place as head coach, the Packers turned their attention to the defense in free agency, where GM Brian Gutekunst made some big signings. The pass rush saw the most improvement with the signings of promising edge rushers Za'Darius Smith and Preston Smith. However the biggest prize of the Packers free agency was safety Adrian Amos who they were able to poach away from the rival Bears.
While the Packers defense will be better this season, the team's success will ultimately rely on the health of Aaron Rodgers, who when at 100% is probably the best QB in the league.
#11 Houston Texans | 2018 Record: 9-7
Key Additions: T Tytus Howard, T Matt Kalil, CB Bradley Roby
Notable Losses: WR Demaryius Thomas, CB Kareem Jackson, S Tyrann Mathieu
Players to Watch: QB Deshaun Watson, WR DeAndre Hopkins, J.J. Watt
The Houston Texans cruised to the AFC South title last year, after bouncing back from a rough 0-3 start to win 9 straight games behind their strong defense and electric play-making from the duo of Deshaun Watson and DeAndre Hopkins. Watson scrambling ability and improvisation skills were crucial as the Texans porous offensive line meant that he was constantly under pressure.
The Texans spent much of their off-season addressing these offensive line issues, spending two of their first three draft picks on tackles Tytus Howard and Max Scharping. Howard, while thought to be a reach by many experts should still help improve an offensive line that surrendered a league worst 62 sacks last year.
The Texan's secondary suffered some big losses with the departures of S Tyrann Mathieu and CB Kareem Jackson, but still retain one of the most dominant defensive line and best linebacking corps in football. Boasting an explosive offense and a stingy defense, the Texans will be one of the main contenders in the AFC this season.