With the 2019 NFL preseason underway, we are officially less than a month away from the start of the regular season and with it comes renewed playoff hopes for all 32 teams. While there are many important position battles and roster spots still to be determined, let's take a look at where each team stands after an eventful off-season.
Tier 6: Tanking for Tua
Going into 2019, there a few teams that have entered a full rebuild mode and while they probably won't like to admit it, they're playing 2019 for draft picks and unlike the NBA, there is no lottery and losing guarantees a top pick.
#32 Miami Dolphins | 2018 Record: 7-9
Key Additions: QB Ryan Fitzpatrick, QB Josh Rosen, DT Christian Wilkins
Notable Losses: OLB Cameron Wake, QB Ryan Tannehill, WR Danny Amendola
Players to Watch: CB Xavien Howard, LB Raekwon McMillan, WR DeVante Parker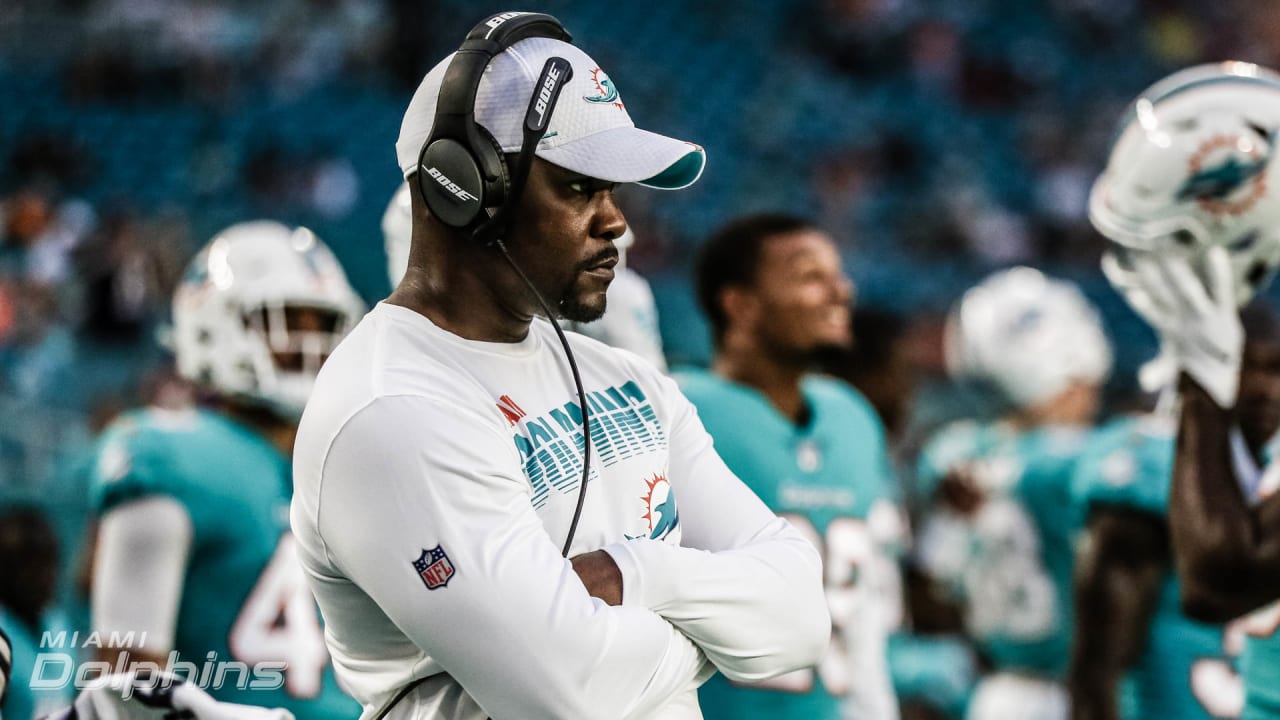 The Miami Dolphins managed to win 7 games last season, highlighted by a miraculous game-winning hook-and-lateral touchdown against the Patriots in week 14. They have since moved on from starting QB Ryan Tannehill and HC Adam Gase, as they begin their rebuild. And with that rebuild, many believed the goal would be 2020, where top QB prospects Tua Tagovailoa and Justin Herbert are expected to headline the draft class. Which is why the decision of trading their second-round pick to the Cardinals for QB Josh Rosen was so puzzling. Rosen who had a rough rookie year in Arizona will battle journeyman Ryan Fitzpatrick for the right to spearhead a Dolphins offense devoid of any real talent and filled with uncertainty.
One certainty on their team will be Pro Bowl CB Xavien Howard, who was given a massive five-year, $76.5 million contract extension this May, making him the highest-paid corner in the league. Howard will help anchor what should be an improved Dolphins defense with new defensive-minded HC Brian Flores at the helm.
The Miami Dolphins are going to lose a lot of games in 2019, their quarterbacks are suspect, their offensive line is among the worst in the league, and their defense will be on the field way too long.
#31. New York Giants | 2018 Record: 5-11
Key Additions: S Jabrill Peppers, QB Daniel Jones, G Kevin Zeitler
Notable Losses: WR Odell Beckham Jr., DE Olivier Vernon, S Landon Collins
Players to Watch: RB Saquon Barkley, WR Sterling Shepard, TE Evan Engram
The New York Giants are another team that had quite a puzzling offseason. It all started in March when they made a pair of trades with the Browns that sent star receiver Odell Beckham Jr. and Pro-Bowl edge rusher Olivier Vernon to Cleveland in exchange for S Jabrill Peppers, G Kevin Zeitler, and draft picks. The moves were met with some mixed reviews, but ultimately helped the Giants clear up cap space and gave them draft capital to start their rebuild. It was how they ended up using said picks that many found puzzling. Giants GM Dave Gettleman used their 6th overall pick on QB Daniel Jones and the 17th overall pick from the Browns on DT Dexter Lawrence. Jones finally gives the Giants an heir apparent to Eli Manning, but was also regarded as an overdraft by many. And the pick of Lawrence was also thought to be controversial, given the Giants' already strong defensive line.
The already maligned Giants lost a lot of talent this offseason and didn't do much to replace them, so it wouldn't be too much of a surprise to see them regress in 2019.
#30 Cincinnati Bengals | 2018 Record: 6-10
Key Additions: G John Miller, DE Kerry Wynn, CB B.W. Webb
Notable Losses: LB Vontaze Burfict, OT Jake Fisher, TE Tyler Kroft
Players to Watch: RB Joe Mixon, WR AJ Green, DT Geno Atkins
After 16 years together, the Bengals and Marvin Lewis mutually decided to part ways this offseason, beginning a new era in Cincinnati. At the helm of this new era will be Zac Taylor, who the Bengals hope will be the next great offensive mind in the league. Taylor has a tough road ahead of him though, as the Bengals training camp has gotten off to a disastrous start.
Unfortunately for the Bengals, OT Jonah Williams will continue the ominous trend of Bengal first-round draft picks missing the majority of their rookie season after undergoing left shoulder surgery. The Bengals bad luck continued when AJ Green suffered a left ankle sprain the first week into training camp. Green reportedly underwent minor ankle surgery and is not expected to be ready for week 1 of the regular season.
The Bengals didn't do much to improve their team this offseason and there will undoubtedly be some growing pains with new head coach Zac Taylor.
#29 Oakland Raiders | 2018 Record: 4-12
Key Additions: WR Antonio Browns, DE Clelin Ferrell, S Lamarcus Joyner
Notable Losses: RB Marshawn Lynch, OT Donald Penn, TE Jared Cook
Players to Watch: QB Derek Carr, WR Antonio Brown, S LaMarcus Joyner
The Oakland Raiders were a mess last year. They began the season by trading away arguably the best defensive player in the league in Khalil Mack and ended it by signing one of the worst offensive players in the league in Nathan Peterman. The revolving door roster management style didn't change much this offseason as it saw the arrival of 12 new players via trade or free agency and the departure of 10 more. Adding the 9 players they drafted, the Raiders essentially have a completely new roster going into 2019.
Headlining the list of new arrivals is superstar receiver Antonio Brown, who we just learned is dealing with frostbite from improper footwear in a cryotherapy machine. And if that wasn't crazy enough, Brown has apparently also threatened to quit football if he isn't allowed to wear his old helmet.
The Raiders have the toughest strength of schedule in 2019 as their opponents have a combined .539 win percentage. This includes a stretch in which they have 5 straight games away from the Oakland Coliseum (1 Home Game in London) in September and October. With a brutal schedule, an unfamiliar team, and a dysfunctional front office, the Raiders seem likely for another sub-par season.
#28 Washington Redskins | 2018 Record: 7-9
Key Additions: S Landon Collins, QB Dwayne Haskins, DE Montez Sweat
Notable Losses: WR Jamison Crowder, DE Preston Smith, LB Mason Foster
Players to Watch: QB Dwayne Haskins, OLB Ryan Kerrigan, T Trent Williams
The Washington Redskins looked really good at the start of last season. They opened with a 6-3 record and were on track to win the NFC East, before Alex Smith's horrific leg injury completely derailed their season. Smith suffered a broken leg and is not expected to be able to return in 2019, making QB a priority for the Redskins going into the offseason. As a result, they brought in veteran QB Case Keenum from Denver and drafted Ohio State standout Dwayne Haskins with their first-round pick, creating an open competition going into the preseason. The protection of said QB will also be in question, with perennial Pro-Bowl tackle Trent Williams holding out and demanding a trade. Coupled with a weak receiving corps and an aging Adrian Peterson, the Redskins offense will likely struggle to score points in 2019.
It isn't all doom and gloom for the Redskins, as they made some significant improvements to their defense this offseason. The signing of Pro Bowl S Landon Collins represents a major coup and will help improve an already formidable secondary.
The Redskins have the easiest strength of schedule in the NFL in 2019, so they should be able to find some wins. But with so many questions on the offense end, they aren't expected to be much of a contender.
#27 Denver Broncos | 2018 Record: 6-10
Key Additions: QB Joe Flacco, OT Ja'Wuan James, CB Kareem Jackson
Notable Losses: OT Jared Veldheer, C Matt Paradis, LB Brandon Marshall
Players to Watch: OLB Von Miller, CB Chris Harris Jr., RB Phillip Lindsay
The Denver Broncos have been in a bit of a holding pattern, since winning Super Bowl 50 three years ago. Their stout defense has been strong enough to keep them in most games, but the inability to find a new franchise QB has limited their potential. It won't be much different this season, despite the arrival of former Super MVP Joe Flacco. Flacco while still, a serviceable QB isn't quite the talent he used to be and shouldn't be relied upon to win games on his arm alone. Flacco's supporting cast will be a bit of a question as well with receiver Emmanuel Sanders coming back from an Achilles injury and an offensive line that will feature two new starters.
There will be no questions about the Broncos defense however as their pass rush should be dominant again with Bradley Chubb and Von Miller manning the edges. And the addition of Kareem Jackson will help an already strong secondary.
The Broncos like the Raiders have a very tough schedule that features 7 opponents that made the playoffs last year. The thin Denver air and prolific defense should help them win a bunch of games, but it probably won't be enough to contend in the AFC West.
Tier 5: One Year Away
One year away from competing or one year away tearing it all down and rebuilding? These teams have some good pieces, but not really enough firepower to seriously challenge for a playoff spot.
#26 Arizona Cardinals | 2018 Record: 3-13
Key Additions: QB Kyler Murray, OLB Terrell Suggs, LB Jordan Hicks
Notable Losses: G Mike Iupati, QB Josh Rosen, DE Deone Bucannon
Players to Watch: QB Kyler Murray, RB David Johnson, WR Larry Fitzgerald
After an abysmal rookie season for Josh Rosen, the Arizona Cardinals decided to move on and start fresh by selecting Heisman winner Kyler Murray with the first overall pick. Murray, a dynamic dual-threat QB figures to breathe life into a stagnant Cardinals offense that ranked last in passing, rushing, and scoring last season. Aiding Murray in the Cardinals offense will be a future hall of famer Larry Fitzgerald who announced that he would be returning for his 15th season.
While the Cardinals offense should see improvements this year, the defense suffered a major setback this offseason with the suspension of All-Pro cornerback Patrick Peterson. Peterson who led the Cardinals secondary to a 4th ranked pass defense last year will miss the first six games of the regular season for violating the league's performance-enhancing drug policy.
The Arizona Cardinals should be an exciting team to watch this and will be considered a sleeper team to many, but are realistically still a year or two from seriously contending in what is a very competitive NFC West.
#25 Detroit Lions | 2018 Record: 6-10
Key Additions: TE TJ Hockenson, RB CJ Anderson, WR Danny Amendola
Notable Losses: S Glover Quin, DE Ziggy Ansah, G T.J. Lang
Players to Watch: QB Matt Stafford, TE TJ Hockenson, DT Damon Harrison
2019 will represent an important season for both QB Matt Stafford and the Detroit Lions. The Lions have a potential opt-out to Stafford's contract in 2021 and have the next two years to evaluate whether Stafford is still the man to lead them forward. Stafford's 10 years in Detroit has seen glimpses of brilliance, but has ultimately been mired in mediocrity with only 3 playoff appearances and zero playoff wins.
Stafford, who struggled last season after the loss of receivers Golden Tate (traded) and Marvin Jones (injury) will get some much-needed reinforcements this year, with the addition of TE TJ Hockenson and WR Danny Amendola. But it is the Lions' secondary that saw the most improvement this offseason with the acquisitions of cornerbacks Justin Coleman and Rashaan Melvin.
The Lions will be put to the test early with games against the Chargers, Eagles, Chiefs, Packers, and Vikings in their first six weeks. So we'll get to find out pretty quickly whether the Lions are pretenders or contenders.
#24 Tampa Bay Buccaneers | 2018 Record: 5-11
Key Additions: DT Ndamukong Suh, LB Devin White, LB Deone Buccanon
Notable Losses: QB Ryan Fitzpatrick, LB Kwon Alexander, WR Adam Humphries
Players to Watch: QB Jameis Winston, WR Mike Evans, LB Lavonte David
Another QB entering an important season in 2019 is Jameis Winston. After serving a three-game suspension to start, Jameis Winston saw himself benched twice in favor of journeyman Ryan Fitzpatrick last season. Surrounded by explosive weapons in Mike Evans, OJ Howard, and Chris Godwin, Winston will have a great opportunity to prove himself this year.
However for the Buccaneers to have any chance of winning this year, it is the defense that has to improve the most, after allowing the second-most points in 2018. And with the additions of DT Ndamukong Suh, LB Devin White, and LB Deone Buccanon, the defense should see at least some improvement this year.
The Buccaneers will be an intriguing team in 2019. With an impressive air attack and improving defense, the Bucs have a chance to make some noise this year if they play up to their potential.
#23 Baltimore Ravens | 2018 Record: 10-6
Key Additions: S Earl Thomas, WR Marquise Brown, RB Mark Ingram
Notable Losses: LB CJ Mosley, LB Za'Darius Smith, S Eric Weddle
Players to Watch: QB Lamar Jackson, S Earl Thomas, RB Mark Ingram
The Baltimore Ravens won six of their last seven regular-season games en route to a fifth AFC North division title. Lamar Jackson's dynamic play acted as a catalyst for the Ravens' hot streak, but the backbone of the team was still their stout defense, which ranked second in points allowed and first in yards against.
The top-ranked Ravens defense took a big hit this offseason, losing four of its key pieces in Terrell Suggs, Za'Daruis Smith, Eric Weddle, and CJ Mosley. Two players brought in to replace them include All-Pro safety Earl Thomas and LB Shane Ray. Both of which are extremely talented, but have potential injury concerns.
The Ravens have held the same basic formula for a while now. They run the ball and they play good defense.
#22 Tennessee Titans | 2018 Record: 9-7
Key Additions: WR Adam Humphries, DE Jeffery Simmons, LB Cameron Wake
Notable Losses: G Josh Kline, LB Brian Orakpo, DE Derrick Morgan
Players to Watch: QB Marcus Mariota, DE Jurrell Casey, S Kevin Byard
The Titans play a similar brand of football as the Ravens. They have a strong defense and funnel much of their offense through the ground. QB Marcus Mariota has proven he can be a difference=maker, but his inability to stay healthy and play in big games have seriously hampered the Titans the past few years. Thus prompting them to trade for veteran QB Ryan Tannehill as an insurance policy.
The Titans pass rush took a hit this offseason with the retirement of both their starting edge rushers Brian Orakpo and Derrick Morgan. But the acquisition of 5 time Pro Bowler Cameron Wake and the eventual debut of first-round draft pick Jeffery Simmons should soften the blow.
The Titans won't exactly be the most exciting team to watch this year, but they'll wear a lot of teams down.