It was another juicy week in celebrity #gossip, and we're here to recap all the hot and heavy rumors, so study up before making your picks!
Fans are excited to celebrate the quick engagement of another young couple, Justin Bieber and Hailey Baldwin. Justin proposed last weekend while the pair was on vacation in the Bahamas. This news comes soon after the couple rekindled their relationship just a month ago. The first peek at the $500K ring came the day following the engagement, and Hailey hasn't been shy about wearing it since.
Parents and loved ones of the couple have been sharing their congrats on social media, while Justin and Hailey have posted sweet notes to each other.
Not sure what I did in life to deserve such happiness but I am so utterly grateful to God for giving me such an incredible person to share my life with! No words could ever express my gratitude. ❤️

— Hailey Baldwin (@haileybaldwin) July 9, 2018
This engagement seems to be the real deal, but many fans are still skeptical. Will Justin and Hailey make it to the altar by the end of the year?
Fresh off the heels of Ariana Grande and Pete Davidson's speedy engagement, many are drawing parallels between the two couples. Ariana even stepped up to defend Justin's decision to propose so quickly (in a now-deleted Twitter response), just as she did about her own engagement. However, both couples are facing quite a large number of critics with doubts either pair will make it to their wedding day. Will both sets of lovebirds end up tying the knot?
Another point of anticipation surrounding Justin and Hailey's engagement is when Selena Gomez will finally share her opinion on the matter. Justin and Selena have a hefty relationship history, with the pair going through their most recent break-up this March. So far, Selena hasn't given any indication that she has anything to say regarding Justin and Hailey, even though reports are stating otherwise. One source claims that she wishes the best for the couple, another claims that she thinks he's not really in love with Hailey, and the most recent reports have her coping in unhealthy ways. When will she comment on her ex's new engagement?
In other #gossip news…
Cardi B and Offset announced the July 10th birth of their daughter, Kulture Kiari Cephus. Cardi B broke the news on her Instagram in a post containing a nude maternity pic and their daughter's name and birthday as the caption.
The happy news comes just a few weeks after Cardi B spilled the beans that she and Offset secretly got married last September. Fans are very excited about the new baby and have already drawn the connection between her name and Offset's real name, Kiari Kendrell Cephus (double Ks, anyone?). When will the public get its first pics of Kulture?
Also…
Scarlett Johansson has received recent backlash following her decision to star as a transgender man in the upcoming film Rub & Tug. Many people on social media are criticizing this move and the fact that it is taking a role away from a trans actor. A group of trans actors even released a now-viral parody video in which they audition for her past roles.
With all the backlash the casting decision has gotten so far, will Scarlett still star in the film?
Lastly…
John Schnatter, founder of Papa John's, has been under fire quite a bit this past year. The latest news comes following his use of a racial slur on a conference call in May and he has since resigned as chairman of the company.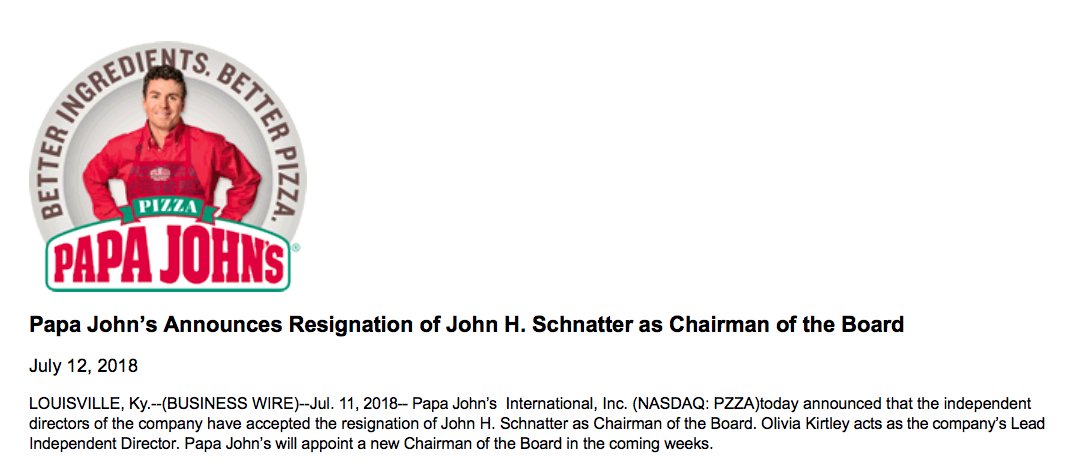 This incident occurred just a few months after his removal as CEO of the company in January after he cited the protests of National Football League players as the reason for falling sales. The next month, Pizza Hut replaced Papa John's as the official pizza sponsor of the NFL, a title Papa John's previously held since 2010. Papa John's stock has already risen 11 percent in the aftermath of his resignation. However, the company still has work to do to catch up with competitors, including Domino's, whose stock is up 47 percent this year. Will Papa John's be able to recover after distancing itself from John Schnatter?
Follow along with Quibbl every week for all the latest in celebrity rumors and buzz.